EVENTS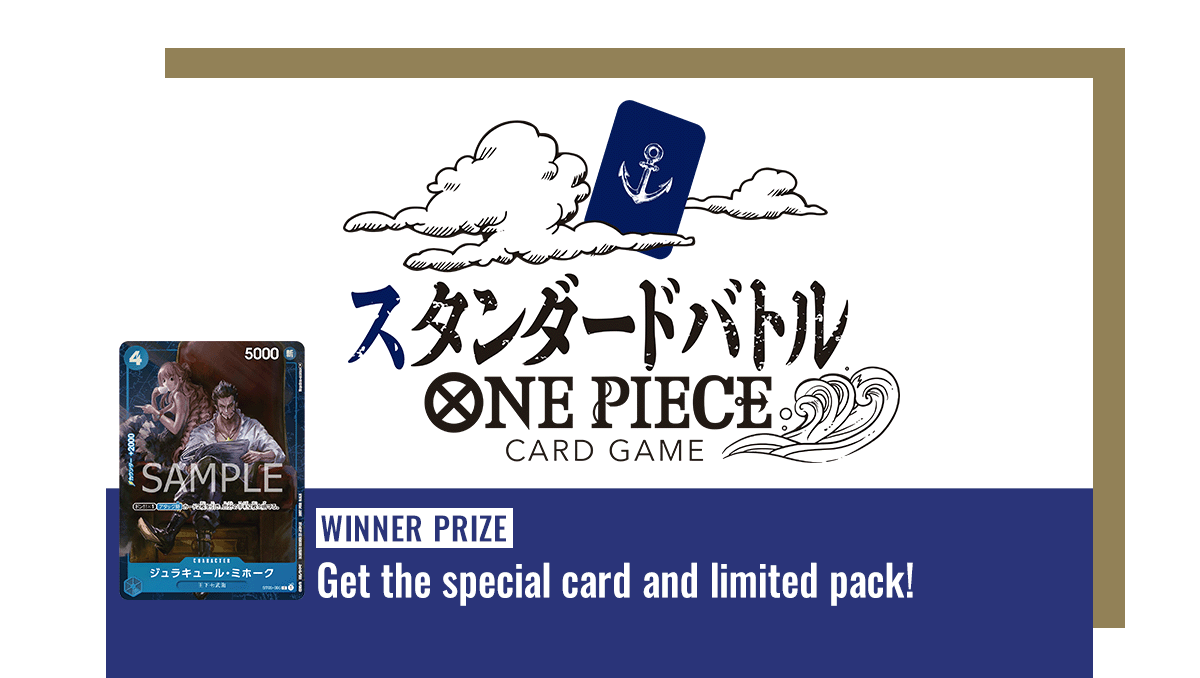 Here are participation prize and winner prize!
Enjoy the ONE PIECE CARD GAME at shop!
Notes
・Please wear a mask.
・Please disinfect your hands in a timely manner.
・Please try to avoid contact between participants such as spectators.
・Please do not attend if you have a cough, cold symptoms or fever over 37.5°C
・Please follow the instructions of the staff on the day of the event.
Summary
Standard Battle is a card battle that takes place in card shop.
Player who join the battle will get the participation prize, and winner prize are available for the winner.
There will be a second chance to get the winner prize!
*please check with your local store for details.
Winner Prize for March
Winner will receive a special card!
Period
March 8, 2023 - April 7, 2023
ST03-005 Dracule Mihawk (Parallel)
Participation Prize for March
Period
March 8, 2023 - April 7, 2023
Standard Battle Pack Vol.3
1pc each pack(Total 4 types)
Asia Special Prize for March
Period
March 8, 2023 - April 7, 2023
P-028 Portgas.D.Ace (Parallel)
Rules ・ Notes
*The stocks of the prizes are limited. Please confirm with your local stores in advance.
*Please check with the host shop ahead of time to find out whether official events are being held or not.
*Please take the proper sanitation measures (wearing a mask, washing hands before the event, disinfecting, etc.) when attending an official event.
*Please take your temperature at home before going to an event. We ask that you refrain from attending if you have a cough, other cold symptoms, or a fever of over 37.5℃.
The rules of the event will be held according to the official rules of the official website.
Please read the official rules carefully before joining.
*If the are any questions regarding the rules or whether something is legal during a battle, please raise your hand immediately and ask for a ruling from one of the store's staff members. We ask that you respect the decisions made by the staff.
*Use of non-regulation or copied cards is not allowed.
*Participation prize will be distributed even if there is only one participant and the event cannot be held.